The international partners from Austria, Spain, Italy and Portugal present the website for its dissemination to the European rural environment.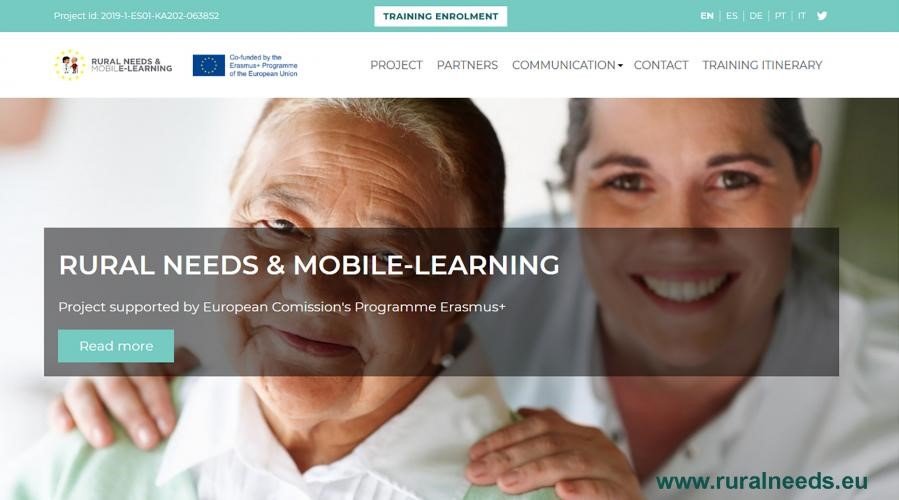 On the occasion of the second transnational project meeting, held by telematic means on 28th and 29th May, the website of the project ( www.ruralneeds.eu) and its dissemination to the European rural environment is presented.
After 8 months of development within the framework of the project and despite the situation generated by the COVID 19 pandemic, the partners from Austria, Spain, Italy and Portugal have successfully completed the first phase of project development.
In a situation like the one we are experiencing, the content and target group to which the guide, the manual and the training actions contemplated in this project are addressed to become even more relevant. Rural areas suffer from certain disadvantages and their population, which is becoming increasingly older and in some cases dependent, has difficulty accessing local services, which are at the same time a source of job generation.
During the first working session, the definitive version of the training of trainers guide for employment aimed at social entities, training centers, NGOs, heads of local entities and associations and platforms related to the promotion of the rural environment will be closed.
During the second day, the first version of the manual addressed to rural people who provide services to the elderly and who do not have specialized professional qualifications in the area of health and care for dependants, will be presented.
The above mentioned target audience for this manual includes from the immigrant population living in European rural areas, to women without digital skills qualifications and young entrepreneurs in areas related to "proximity services" in the rural environment.
All the material developed will be contrasted through on-line training actions reinforced with a mobile classroom displaced to different European regions with low population density in the 5 participating countries. This training is planned for the end of 2020 until the summer of 2021, after the appropriate dissemination campaign for all those who are interested in participating in this international training linked to promoting quality life and employment in the disadvantaged rural environment.
This project, promoted by San Valero Group and financed by the European Union within the framework of the ERASMUS PLUS Programme, in its action of innovation, is coordinated by one of its entities, SEAS ESTUDIOS ABIERTOS, which in its role of technological partner, will also be responsible for bringing the training to on-line format in 5 languages through an innovative system of monitoring and control.
The partnership of the project wishes to make public the recognition of the professionalism of the health and care for the elderly and dependants personnel due to the serious crisis generated by the pandemic and to extend it also to the teachers and all those groups that at European level have been in charge of essential services for the European population.