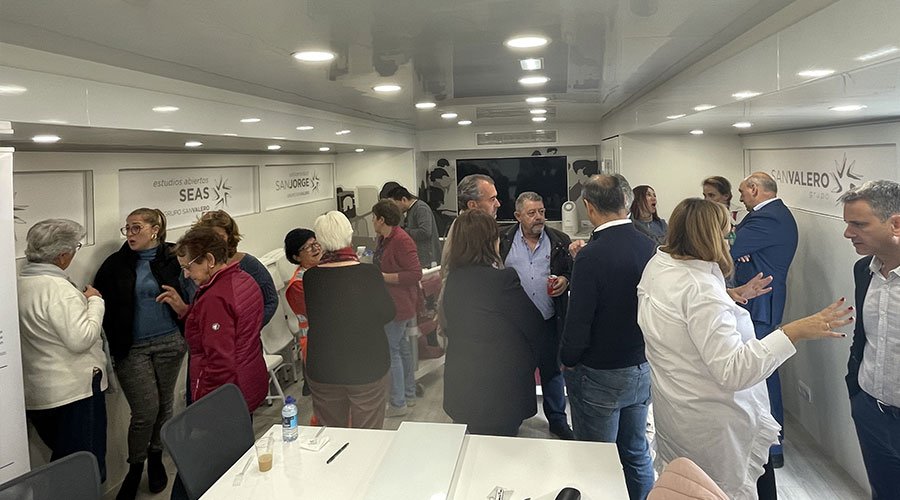 San Esteban de Gormaz (Soria) the third location to attend the conferences of New training mobility approach to meet needs for qualification and social inclusion in the European rural areas. This seminar, open to the public, has been placed in a mobile classroom which will travel on different places of Castilla y León to discuss about different issues related to social and health care and dependency in rural areas.
César Romero, general manager of San Valero Group and Diego Juez, territorial director of Vitalia, were in charge of welcoming all the attendees, thanking the mayoress of San Esteban de Gormaz, María Luisa Aguilera, for her presence, as well as the good reception of the initiative in her town. José Antonio Martínez, territorial manager of social services at Castilla y León in Soria also attend this conference.
Nieves Zubález, director of the International Department of the San Valero Group, explained the details of the project, which is supported by the European Commission and Erasmus+ co-financing. She indicated that this project presents a new learning approach aimed at meeting the specific needs related to employment and social inclusion in European areas with a low population density.
Rural Needs & Mobile Learning, is promoted by SEAS Estudios Superiores Abiertos, an entity belonging to the San Valero Group, with partners from other European countries such as Portugal, Austria and Italy.
Gustavo García, social worker representing the Association of Directors and Managers of Social Services, has developed the presentation "Loneliness in the Elderly".
This was followed by a round table with the participation of María Luisa Chamorro, director of the Vitalia residence in San Esteban de Gormaz, accompanied by technical staff, workers, residents and family members, with contributions from their experience and the reality they live every day.
The course concluded with a practical session called "Empathy and ethics in care" in which it was possible to use an age simulator suit to understand the reality of the elderly in different situations and pathologies.
Image